A 10 minute podcast in which Sonrise Morning show host Matt Swaim asks Dr. Italy some interesting questions about Dr. Italy's most recent pilgrimage to the Holy Land, plunging into the world of the Bible and following the footsteps of Jesus.
Just returned from a New Year's pilgrimage to the Holy Land, Dr. Marcellino D'Ambrosio fields questions from Matt Swaim that many people are curious about.  Can we trust what we see in the news when it comes to the situation in Israel and the Palestinian territories?  Do Americans feel safe in the Holy Land?  What's it like learning about the Bible in the very place where it was written?   And most importantly, what's it like to walk in the footsteps of Jesus?
Dr. Italy describes some of the experiences he and his group had during their Holy Land pilgrimage such as night-time Eucharistic Adoration in the garden of Gethsemane and hearing the words of Jesus in Aramaic, the actual language of Jesus, in the very place where he spoke them.  He also talks about the rich cultural experience of contact with the people of the Holy Land, both Jewish and Arab, learning their culture and sampling their cuisine.  To learn more about pilgrimage to the Holy Land with Dr. D'Ambrosio, visit the pilgrimage section of the Crossroads Initiative Website.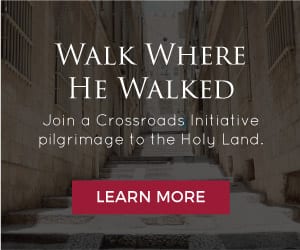 Dr. Italy appears weekly on the Sonrise Morning show, a production of Sacred Heart Radio.  This show is broadcast Monday through Friday over the EWTN Global Catholic Radio network which has over 500 local affiliate stations in the US and around the world.  Podcasts from the Sonrise Morning show are available on both Sacred Heart radio site and www.crossroadsinitiative.com.