The ancient city of Strasbourg, sitting on the border of France and Germany, is a blend of cultures and influences, with roots that go back to the Celts and Romans.  In this 8 min. interview from Catholic radio, Dr. Italy discusses the fascinating history of this town known today as the "Capital of Christmas".  But the heart of the town is its stunning cathedral, Notre Dame de Strasbourg, which took four centuries to complete.  This will be one of the first sites visited on the 2023 Rhine Cruise pilgrimage.
Strasbourg, a city in eastern France on the border of Germany, is a crossroads of culture. In 12 B.C, the Romans established a military post at an old Celtic settlement, which was later renamed "Strasbourg", or city at the crossroads, by Germanic barbarian conquerors. Modern day Strasbourg sits on the west bank of the Rhine (now France) but right across the river from Germany, in a region known as Alsace.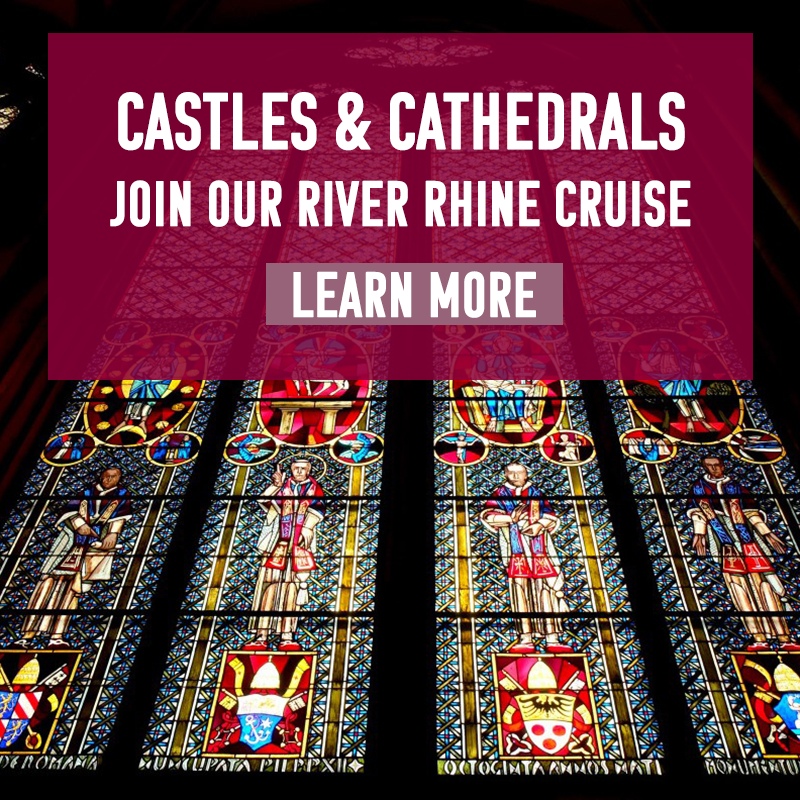 The Church planted there very early, with Christian Roman soldiers. The present cathedral (Notre Dame or "Our Lady" of Strasbourg) was begun in the 12th century, in the days of the crusades, Richard the Lionheart, and Robin Hood. It took 400 years to build, and was finished as the Renaissance was over and the Protestant reformation had begun. It was an amazing project of the whole town, with a long-term perspective. The distance in time between the start and finish of Strasbourg's cathedral is equivalent to the time between the pilgrims arriving at Plymouth Rock and today. The cathedral is a product of a team effort of all the guilds and associations in the Town, as well as generous individuals. The architectural style is Romanesque / Gothic, with amazing stained glass and an astronomical clock, a wonder of 19th century engineering. We will tour this place on our upcoming Rhine pilgrimage, but also have time to pray here and celebrate Mass. Though France is known for its abundance of magnificent cathedrals, the cathedral of Strasbourg, dedicated to Our Lady, is the most frequently visited cathedral in the country.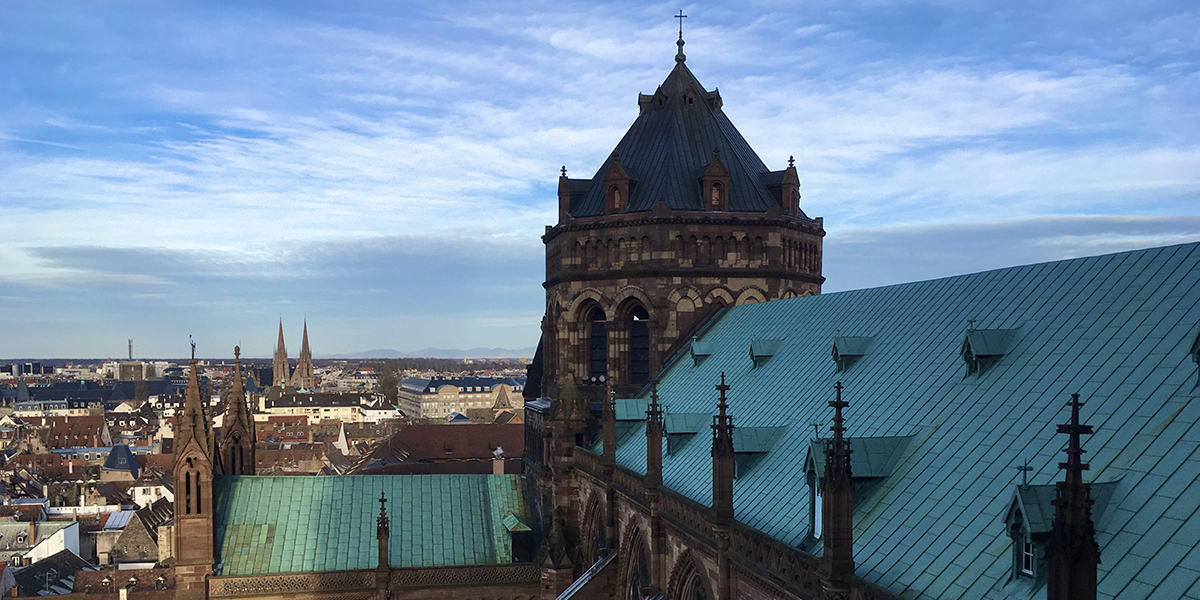 Above image of Notre Dame by Pedro J Pacheco on Wikimedia. CC 4.0.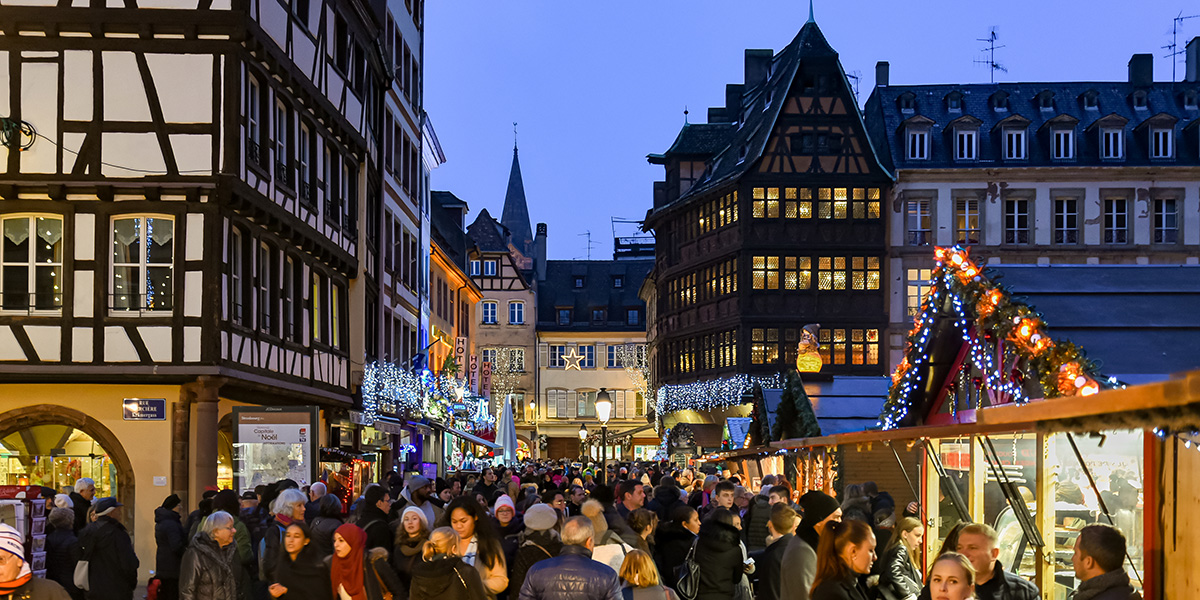 Above image of the Christmas market in Strasbourg by Jorge Franganillo on Wikimedia. CC 4.0.
The town of Strasbourg is also known as the 'capital of Christmas' – the first recorded Christmas tree in history was here. Strasbourg's Christmas market is famous . . . in December, it's hard to find a place to stay or eat in the town.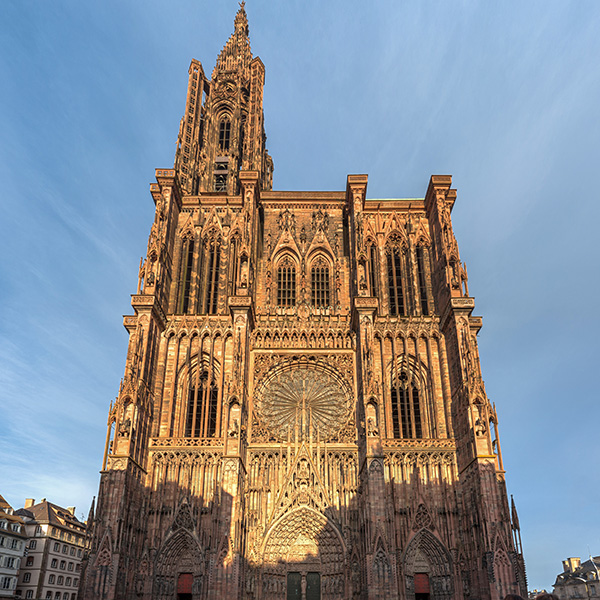 Above image of Strasbourg Cathedral by Diliff on Wikimedia. CC 4.0.
The town of Strasbourg preserves much of its medieval charm, with half-timbered houses (Tudor style) lining canals and the bank of the Rhine. A magical place just to walk around.
Banner/featured image of the interior of Notre Dame by Pedro J Pacheco on Wikimedia. CC 4.0.