In this 7 minute radio interview on the Sonrise Morning Show, Dr. Italy continues a discussion on our Catholic heritage inspired by his upcoming pilgrimage cruise along the Rhine River. The featured site explored in this interview is the amazing Cologne (or Köln, in German) Cathedral and its fascinating history and significance.
One of the great cities on the Rhine River is Cologne, and we will be stopping there on our Rhine pilgrimage cruise in late spring of 2023.
The name of the city, "Cologne", comes from the fact that it was a "Colonia" or colony for retired Roman soldiers. After 20 years of service, legionaries would get a parcel of land here and a pension. Philippi was also a "colonia". So the city goes back to the time of the Roman emperors. The Christian emperor Constantine lived for a while in another nearby Roman city, Trier. During his day, one of the pagan temples in Cologne was destroyed and replaced with the town's first cathedral, which was rebuilt around the year 800.
In 1248, that cathedral was destroyed to make way for a new, immense structure. A much bigger cathedral was needed because thousands of pilgrims were arriving each week in Cologne to reverence the relics of the three Wise Men, which the Holy Roman Emperor, Frederick Barbarossa, had brought to Cologne from Milan.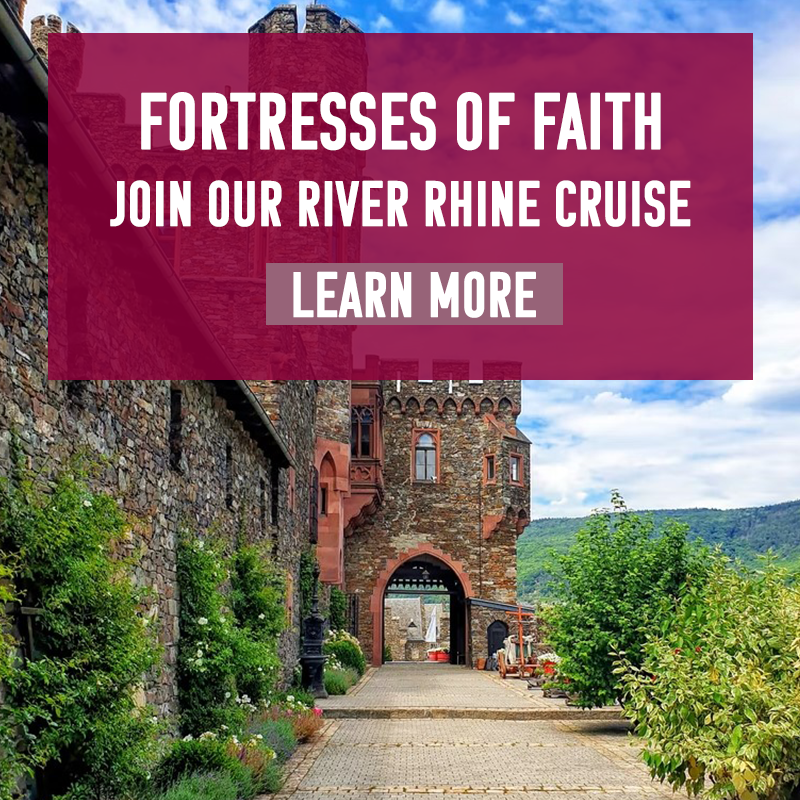 The cathedral was not finished for over 600 years . . . finally, in the 19th century, the towers were added and the work was done. The Cologne Cathedral was the tallest building in the world for the next four years, until the Washington monument was erected. With the spires alone measuring 515 feet, the cathedral is the tallest twin-spired church in the world and the 3rd tallest church of any design. The spires can be climbed via stairways for those who have the energy to do so. The view of the Rhine and the surrounding countryside is amazing.
The entire city of Cologne was flattened in WWII, and though there was some bomb damage to the building, the cathedral survived almost completely intact. Today, it is Germany's most-visited landmark, with 20,000 visitors per day. It has been declared a Unesco World Heritage site.
It is just amazing to think of the centuries of kings, emperors, archbishops, abbots, canonized saints (like Albert the Great and Edith Stein) who worshipped the Lord here and honored the relics of the Magi who welcomed his birth, not to mention the thousands of faithful people who collaborated in the building and design of this monument. The stones speak of the living stones who carved them, hauled them, and erected them.
Banner/featured image by Keanu K on Unsplash. Public domain.